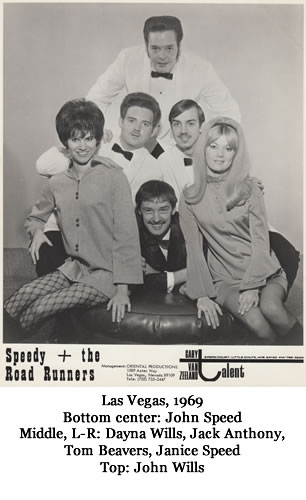 ayna began her career in the summer of 1967 at the Four Queens Hotel and Casino in downtown Las Vegas. Later that year, she joined the Johnny Speed Show and for the next six years toured the Midwest, Alaska, and the New England states, singing the rock 'n roll hits of the day. Between road gigs, Dayna worked with jazz trios at Holiday Inns and supper clubs, building a large repertoire of standards in the process.
In 1974, Dayna's brother Jim asked her to join his country band. "I had never liked country music, but I had so much fun with the music and the people that I hung up my rock and roll shoes. From then on, I was either in a jazz group or a country band." (This article from the September 9, 1977 Spokane Daily Chronicle has Dayna performing with Up'N Country Friday and Saturday nights at the Ol' Hanging Tree tavern in Greenacres in 1977).
From 1984 to 1988 Dayna performed in Southern California with the band Skeezix, playing at the Hillside Club near Long Beach, but in 1988 she returned to Northern California. "I was living in Southern California and there just weren't any western swing bands. There were four-piece country bands that would play a Bob Wills song now and then, but no fiddles, no steel and no horns. Something was missing."
The real tranformation came in 1989 when Dayna had the opportunity to perform with the former Texas Playboys at the annual Bob Wills Day celebration in Turkey, Texas. "I just fell in love with that big sound!" Fans of Bob Wills and The Texas Playboys know that Bob had three brothers, but not everyone knows that Bob also had six sisters. Dayna is Bob's sister Helen's kid! Dayna sings under the Wills name in honor of her mom.
In 1990 Dayna joined the Sacramento Western Swing Society, but continued to perform at the annual Bob Wills Day celebration in Turkey. "It's quite a thrill to sing for an audience of 10,000 Bob Wills fans," Dayna says. "Bob Wills is to Western Swing what Elvis is to Rock and Roll."

t was at the urging of former Texas Playboys Tommy Perkins and Benny Garcia that Dayna went to Oklahoma City in 1995 and recorded 20 songs. These songs were produced by Tommy Perkins, and divided into two albums, "Bob's Sister Helen's Kid" and "Swingin' After Midnight". Band members included Benny Garcia, Billy Briggs, Bobby McBay, Larry Pierce, Amos Hedrick and Tommy Morrell.
February of 1999 saw Dayna back in the studio, this time in Dallas, where she got together with most of the same crew from her 1995 session. Produced by Tommy Morrell, the album is titled "Inside Out", and includes two songs written by Dayna and two songs co-written with Norma-Lee. Band members on the album include three musicians from Tommy's Time Warp Tophands, Mark Abbott, Randy "Snuffy" Elmore, and Curly Hollingsworth. (More about the albums can be found here.)
It was also in 1999 that, as a favor to a friend, Dayna sang some Western classics for a memory care facility. "The residents were singing along. They knew the words! That was the most gratifying thing I had ever done, and I have been doing it ever since."
In 1998 Dayna was voted "Female Western Swing Vocalist of the Year" at the Academy of Western Artists Will Rogers Awards in Fort Worth, Texas, and in 2000 the song Dayna and her songwriting partner Norma-Lee co-wrote, "Sing Faded Love, Dayna Gayle", won "Song of the Year" at the Academy of Western Artists awards ceremony.
In October, 1999, Dayna was inducted into the Western Swing Society Hall of Fame, and two years later she was inducted into the Texas Western Swing Hall of Fame, joining Uncle Bob, the prestigious Hall's first inductee. In 2001 the Northwest Western Swing Music Society honored her with induction into the NWSMS Hall of Fame.
In 2014 she was nominated again for Western Swing Female Vocalist of the Year by the Academy of Western Artists. Award ceremony was held in Irving, Texas on March 27-28, 2015 (congratulations to Sharyn Lee, 2014 winner!).
Sadly, Dayna passed away November 10, 2018. She will be remembered in her music and her loving friendships.
"Lady Bass: Louise Rowe" by Dayna Wills »
"Remembering Rose Maddox" by Dayna Wills »
"Those Wills Women" by Dayna Wills »
"It's All Henry's Fault" by Dayna Wills »
"Sky Full of Angels" by Dayna Wills »