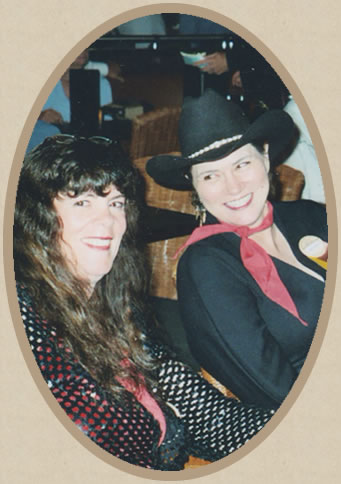 "The Irrepressible Norma-Lee"
By Dayna Wills
Irrepressible means not restrain-able, not able to be controlled, irrepressible high spirits. That pretty well describes Norma-Lee. Sadly, we lost Norma-Lee on June 29, 2012. On July 22nd her friends, family, fans, and colleagues bid her a final farewell. It was especially gratifying for me to hear people speak of Norma-Lee with such warmth and appreciation. When she first joined the Western Swing Society in 1983, she was new to Western Swing music and terribly insecure. We couldn't know that she would grow into and with an organization in such a way that she has become synonymous with it. No one who came to our monthly Sunday dances or our Hall of Fame Celebration ever left without becoming acquainted with Norma-Lee.
The irrepressible Norma-Lee: quick-witted, intelligent, compassionate, creative, informed, and involved. She led a successful life and I, for one, will miss that little package that enriched my life so much. I read somewhere that one way to honor the memory of someone who has passed is to adopt a personality trait of theirs that you admired. There are many positive traits to choose from in the personality of Norma-Lee. I will strive to become more creative: write that book, finish those songs, and write new ones. The good news is that Norma-Lee left me a treasure-trove of possibilities with her poetry. Think. What did she leave with you?